Get Started on Steemit with Steem.Guide
Today, I'd like to show you a resource called Steem.Guide that will be very useful for you if you want to learn how to use Steem and be successful on the platform. If you have been reading my latest posts on this blog, you might have noticed that I am writing quite a lot about cryptocurrency and especially Steem.
Get Started on Steemit with Steem.Guide
Jerry Banfield has built a massive list of all the tutorials available on Steemit about Steem and you can access it at Steem.Guide. You might not be familiar with the .guide extension, but it is just like using a .com or .net domain name.
Every month Jerry is updating the list of tutorials with new ones and makes a new post on Steemit, which is what you see when using the Steem.Guide URL.
Maybe you don't know anything about Steem and Steemit, and if this is the case I suggest that you have a look at it because this is a way you can make some money by blogging, commenting and upvoting. If you are using Facebook, you are already doing it for free!
Have a look at Jerry's blog on Steemit and see the earning potential: https://steemit.com/@jerrybanfield
And this is mine with more modest earnings: https://steemit.com/@gmichelbkk
If you already are on Steemit, how do you succeed and learn?
When you go to http://steem.guide, you can read the updated list of tutorials for Steem, and start applying what you learn. A lot of tutorials were made by Jerry himself, but there are also tutorials by other authors on Steemit. There are currently 111 tutorials listed in Steem.Guide.
These are the different categories in Steem.Guide:
Steem Account Security
Blogging on Steemit
Steem Economics
Promoting Steem Posts
Buying and Selling Steem on Exchanges
Steem Basic Training
Investing in Steem
Steem Apps
Steem Secrets
Steem Witness Training
Improving Steem
Alternatively, you can access the Steem guides with the spreadsheet on Airtable at:
https://airtable.com/shrF00NW4Z99WZX50/tblxbDgjhjN2Lu1jZ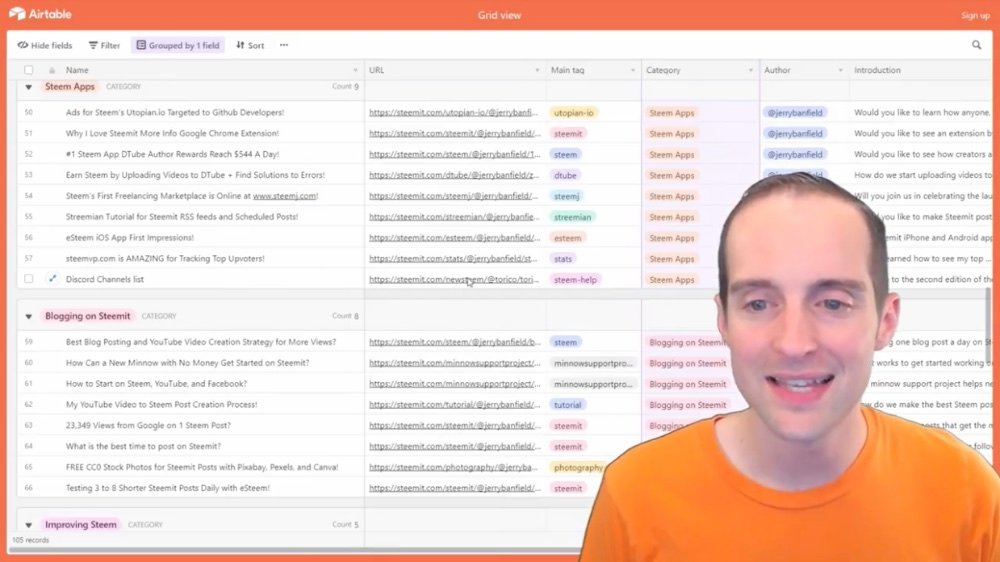 I encourage you to watch this short video to see exactly how Steem.Guide can be useful to you.
Master Steem in 1 Hour at Steem.Guide!
Master Steem in 1 Hour at Steem.Guide!
Published on Jan 22, 2018
This video shows what http://steem.guide contains as of January 2018 including many of our most relevant and useful tutorials for learning how to use Steem, building a following, promoting posts, becoming a witness, monetizing our creativity, and making Steem our primary source of income.
This is Jerry Banfield's Steemit blog: https://steemit.com/@jerrybanfield
You may also be interested to read this post: Blog and Earn on Steemit!
I hope this is useful for you.